On July 17th, 2008 I had the opportunity to display and demonstrate papier mache techniques at our local Artist's Market here in Midland, MI. The Artist Market takes place in downtown Midland next to the Tridge. The Tridge is a large three-way footbridge located above the joining of the Chippewa River and Tittabawassee River near downtown Midland, Michigan, in the Tri-Cities.


The Artist Market happens every Thursday during the summer months and coincides with a free outdoor concert and many food vendors. My appearance at the Artist Market was to promote my papier mache dragon making classes that are happening next weekend, July 25, 26 and 27th at SpaceStudios in Midland, MI. The owners of the studios arranged my booth and created some very nice print materials to promote my class.


The event ran for four hours during which I had the opportunity to meet many, many people and discuss the greatness of papier mache. The experience was fun and rewarding although very hot, the temperature was in the high 80's with a heat index of 92 plus a great deal of humidity. The whole experience was a good one especially since this was the first time I had ever displayed my work anyone other than Halloween enthusiasts.
Here are a few photos that my wife and kids took during the Market.


In these photos I'm creating the basic armature to be used for my dragon sculptures.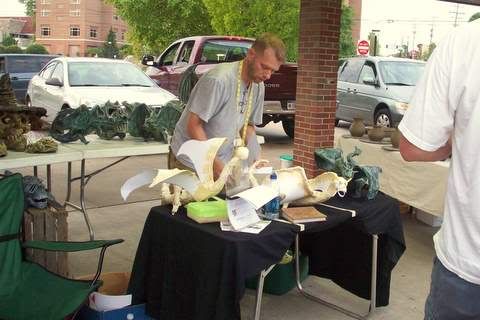 There was quite a bit of interest in my classes and the next day several people had actually already called the studio to sign up.
The classes are a go!
Teaching papier mache for the first time should be a fun, interesting and educational experience.
-scott