Work has finally begun on some new additions to our 2008 Halloween Yard display. The concept is to have a nasty and evil pumpkin patch inhabited by thirteen papier mache jack-o-lanterns.

The pumpkins are being created in a similar fashion as my previous pumpkin prop I made last Spring, the only difference is I'm using crumpled newspaper instead of shredded paper and a section of 14-gauge utility wire instead of a dowel rod. The wire is run through the center of the plastic bag and acts as the support for the twine that is wrapped around the bags to create the ridged appearance.

Work has begun on nine of the pumpkins.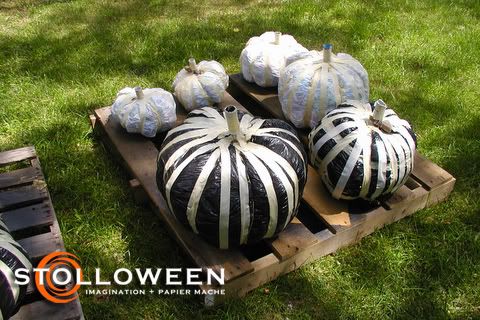 Several sheets of newspaper were rolled into a tube to create the basic shape of the pumpkin stem.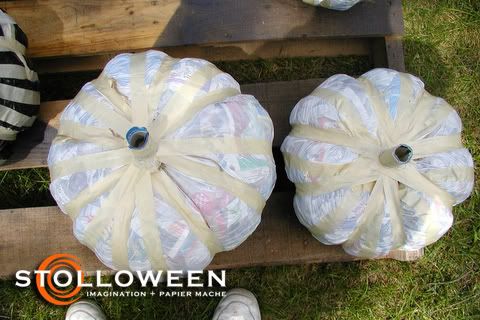 Once the basic form was created four plus layers of papier mache were applied to the pumpkin. Normally I do not use glossy paper (i.e. the ads or magazines) when papier maching, but for some reason I had a tough time telling what had been covered so I alternated between B&W newsprint and the glossy full-color paper, it worked without any problems.

After the pumpkin had been covered with strip mache, papier mache clay was used to add the stem and accentuate the ridges on the top of the pumpkin.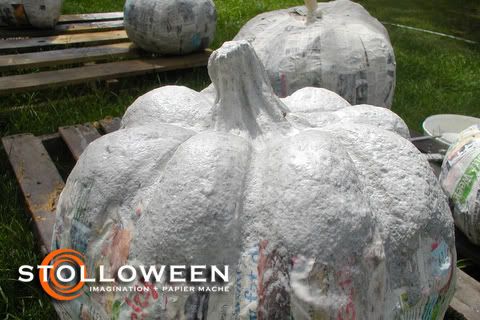 The paste used for this project was six cups of flour, one cup of white glue, one cup of liquid starch all mixed together with water to create a thin workable paste.




The clay was made by adding the above paste mixture with some pulped paper, in this case cellulose insulation was used. Approximately a cup of joint compound was also added to the mixture to act as a binder.



My kids were enlisted to help with the papier mache process. They always start to dread this time of year because as the season gets closer they know their help will be requested.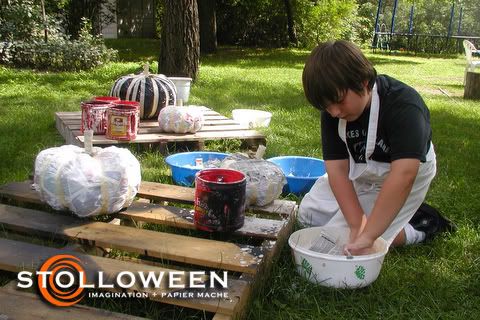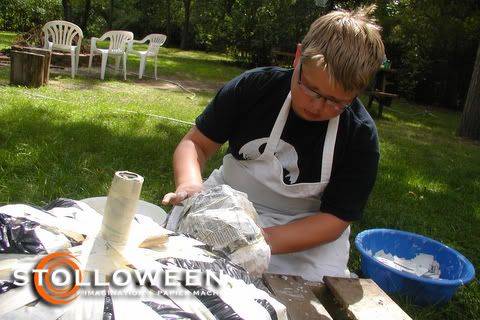 Once everything is dry, the next step will be to cut a hole in the bottom and remove the newspaper. These pumpkins will feature some pretty elaborate face designs as well as some pumpkin vines and leaves.




Stay tuned…..