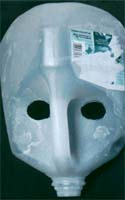 Karen Farr Lee shows you the magic and mystery of bringing a papier mache mask to life.
I can't believe that all the times I browed The Papier Mache Resource site that I haven't read this.
The tutorial is well written and creatively shows how to use a plastic milk jug as the base for the mask.

While the mask idea is cool I'm thinking that the milk jug idea would have many uses for creating character heads for Halloween props.